wondering what to make for dinner tonight?
this is what we're having at our house.

i saw giada make these on her show and they looked so great, i had to try.
two years later, and they are still our favorite chops!

fool proof with few ingredients,
while
moist, flavorful & delicious
, they're the best!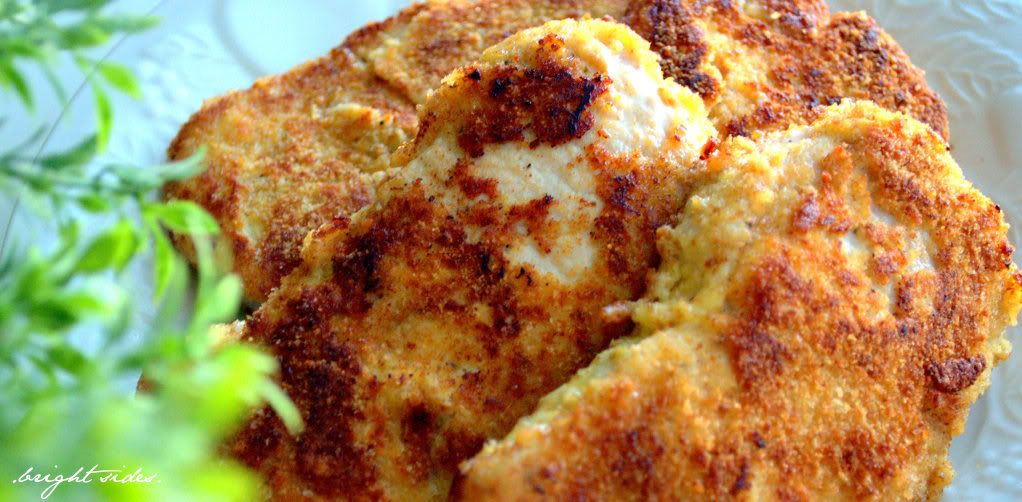 Parmesan-Crusted Pork Chops
2 large eggs
1 C dried Italian-style bread crumbs (regular work fine too)
3/4 C parmesan cheese
4 (1/2 to 3/4-inch thick) center-cut pork loin chops (each about 10-12 oz)
Salt and freshly ground black pepper
6 T olive oil
Lemon wedges, for serving
Whisk the eggs in a pie plate to blend. Place the bread crumbs in another pie plate. Place the cheese in a third pie plate. Sprinkle the pork chops generously with salt and pepper. Coat the chops completely with the cheese, patting to adhere. dip the chops into the eggs, then coat completely with the bread crumbs, patting to adhere.
Heat 3 T of oil in a very large skillet over medium heat. Add pork chops, in batches if necessary, and cook until golden brown and the center reaches 150º, about 6 minutes each side. Transfer the chops to plates and serve with lemon wedges. squirt!
i will be serving these with a salad and sweet potato.
Enjoy